Moscow summer meeting points: Moscow Beats Tour awaits you for a guided trip!
Moscow guided trips start

every

SATURDAY at 

12:30 p.m. for the classical tour and

every

SUNDAY at 

12:30 p.m. for the alternative tour.

(

1st May – 30th September)
Our meeting point is next to the fountain at Theatre Square on Saturdays and next to Griboedov Memorial in Chistie Prudi on Sundays.
---
Moscow meeting point №1- CLASSICAL TOUR
We start our classical walk at the most popular Moscow meeting point every SATURDAY (from May till October only) at 12:30 p.m. We are looking forward seeing our guests at the city centre near the fountain in front of  the famous Bolshoi Theatre ( shown on the photo below).

---
Moscow meeting point №2- ALTERNATIVE TOUR
Meeting for our non-traditional tour takes place every SUNDAY (from May till October only) at 12:30 p.m. We will be waiting for curious travellers in front of the monument to the Russian diplomat and playwright, Alexander Griboedov (see picture).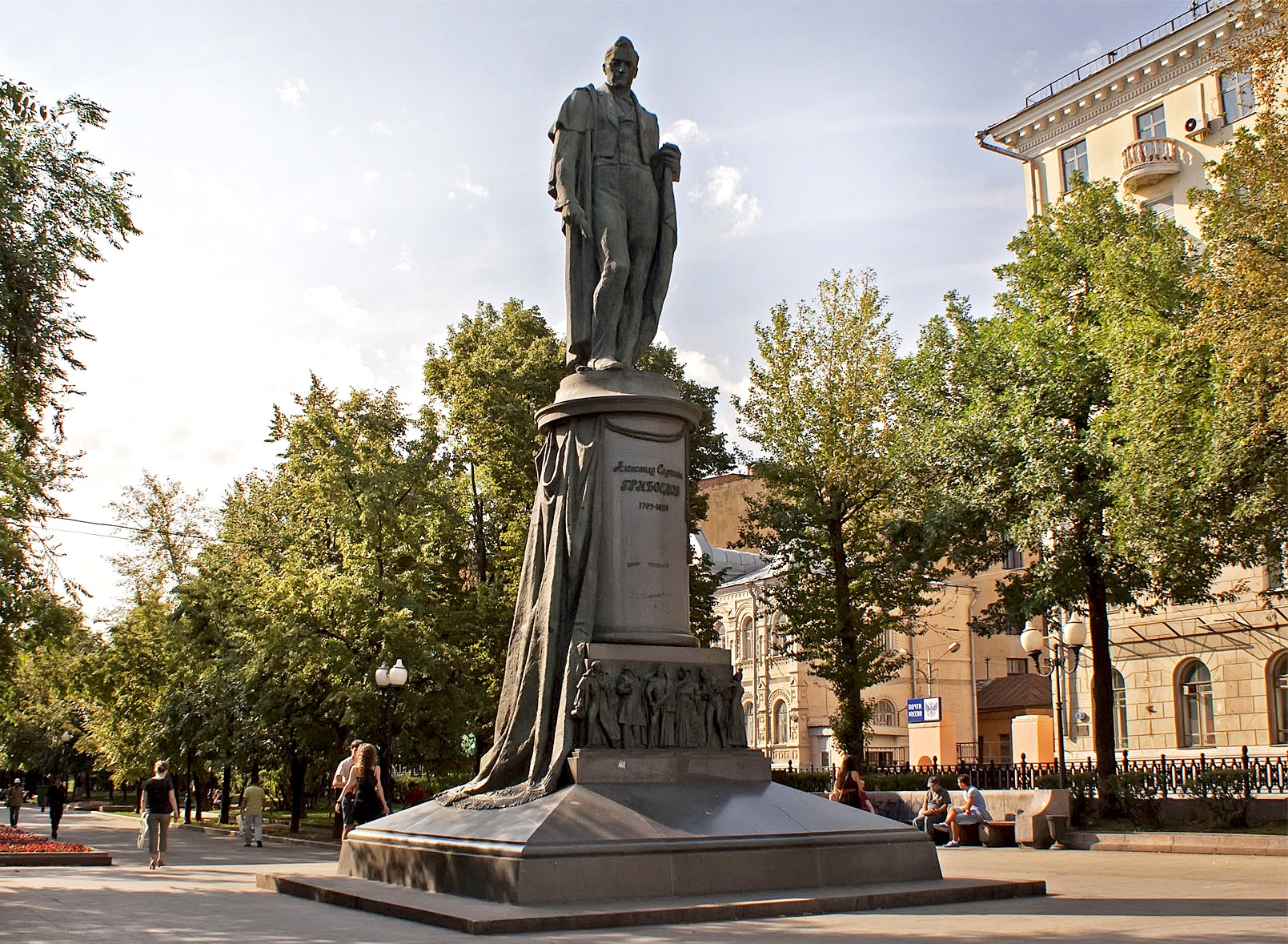 ---
How to reach the meeting points by Moscow Metro?
If you  decide to arrive at meeting point №1 by Moscow`s underground, take the metro to one of these stations:
Teatralnaya (Bolshoi Theatre/Большой Театр exit), green line

Okhotnyi Ryad (Theatre Square/Театральная Площадь exit), red line
To get to Griboedov`s monument for meeting point No 2, take the metro to:
Сhistie Prudi (Chistoprudniy Bulvar/Чистопрудный бульвар exit) , red line
If you are not sure you will find the right exit, a guide can meet you inside the metro. Please remember that the guide can wait for 5 minutes only.Please state if you wish to meet our guide inside the metro in the comments section of the online order form.
---
Moscow meet for land travelers. How to reach the meeting points by car?
Every taxi driver in Moscow knows the address of the Bolshoi Theatre. So it would not be a problem to reach this meeting point by taxi. We recommend you to use a Yandex taxi service. The car reservation and payments can be done online on the web-site or with a mobile application. Other available taxi services are GETT and UBER.
For alternative meeting point tell the driver you need a monument to Griboedov at the begging of Chistoprudniy bulvar.
If you decided to get us by car, please, remember about high probability of traffic jams. Watch over the traffic to arrive to the Moscow meeting point safely and on time.